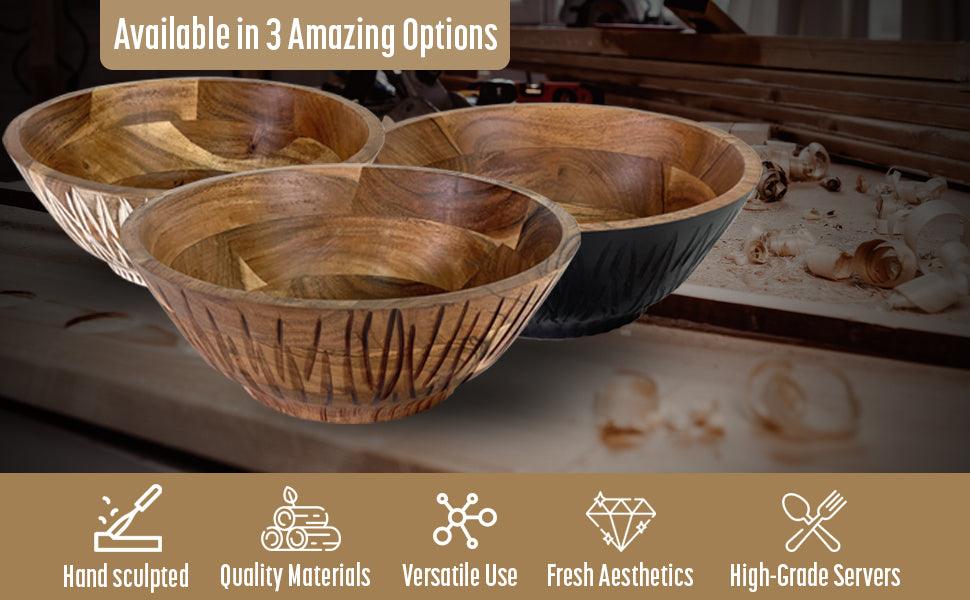 Sep 06 , 2023
Elevate Your Dining Experience with Our Handcrafted Acacia Wood Salad Bowl Set
When it comes to dining in style and elegance, one cannot overlook the beauty and versatility of our Acacia Wood Salad Bowl Set. Handcrafted with precision and care, this exquisite piece of kitchenware is more than just a bowl; it's a statement of craftsmanship and functionality. In this blog post, we'll delve into the finer details of our Acacia Wood Salad Bowl Set and explore why it's the perfect addition to your kitchen.
Exquisite Craftsmanship:
Our salad serving bowl is a testament to the artistry of woodworking. It's meticulously hand-sculpted, carved, and sanded from solid acacia wood, resulting in a piece that exudes natural beauty. With two coats of food-safe oil for protection and a finishing shiny touch, every glance at this bowl is a feast for the eyes.
Premium Quality Cutlery:
But it's not just about the bowl itself; our set includes a fork and spoon made from high-grade stainless steel with ergonomic wooden handles. This cutlery complements the bowl's elegance and ensures that your salad-making and serving experience is a breeze.
The Right Size:
At 12 x 4.5 inches, our salad bowl is the perfect size for family gatherings and dinner parties. The 10.5-inch servers make it easier to scoop and serve your delicious creations. It's not just about aesthetics; it's about practicality.
Unmatched Versatility:
This wood serving bowl isn't limited to salads. It's a versatile kitchen companion that can be used for preparing and serving various foods – from salads and veggies to fruits and snacks. Beyond the kitchen, it can double as an organizer, table centerpiece, trinket bowl, or even a decor statement.
The Perfect Gift:
Looking for a thoughtful gift? Our Acacia Wood Salad Bowl Set is an excellent choice. Whether it's for a birthday, anniversary, or any special occasion, you can be sure that your loved ones will adore this handcrafted masterpiece.
Easy to Care For:
Caring for this piece of art is a breeze. Simply hand wash it – no soaking, no dishwasher, no microwave, and no refrigerator. It's a small effort to maintain the beauty of this exceptional bowl.
Conclusion:
Incorporate our Acacia Wood Salad Bowl Set into your kitchen, and you'll not only dine with style but also elevate your culinary experiences. This superb, solid, and selective acacia wooden serving bowl is more than just kitchenware; it's an expression of your appreciation for the finer things in life. Make your dining moments memorable with this extraordinary addition to your home.